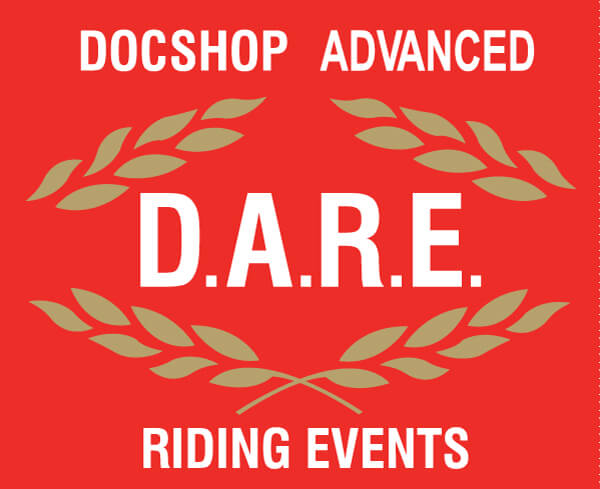 Feel like a MotoGP rider..
IF YOU D.A.R.E. !
D.A.R.E. stands for Docshop Advanced Riding Events and organizes circuit-training for motorcycle enthusiasts. Every type of ability (or no ability) is welcome from the beginner to the competitive racer, from junior (from 13 years old) to senior. The D.A.R.E.-events are organized with the same personnel who are employed within the internationally renowned racing team. This team has over 30 years of experience from National, European and World championship motorcycle racing. With this experience we will support you with our expertise on and off the track.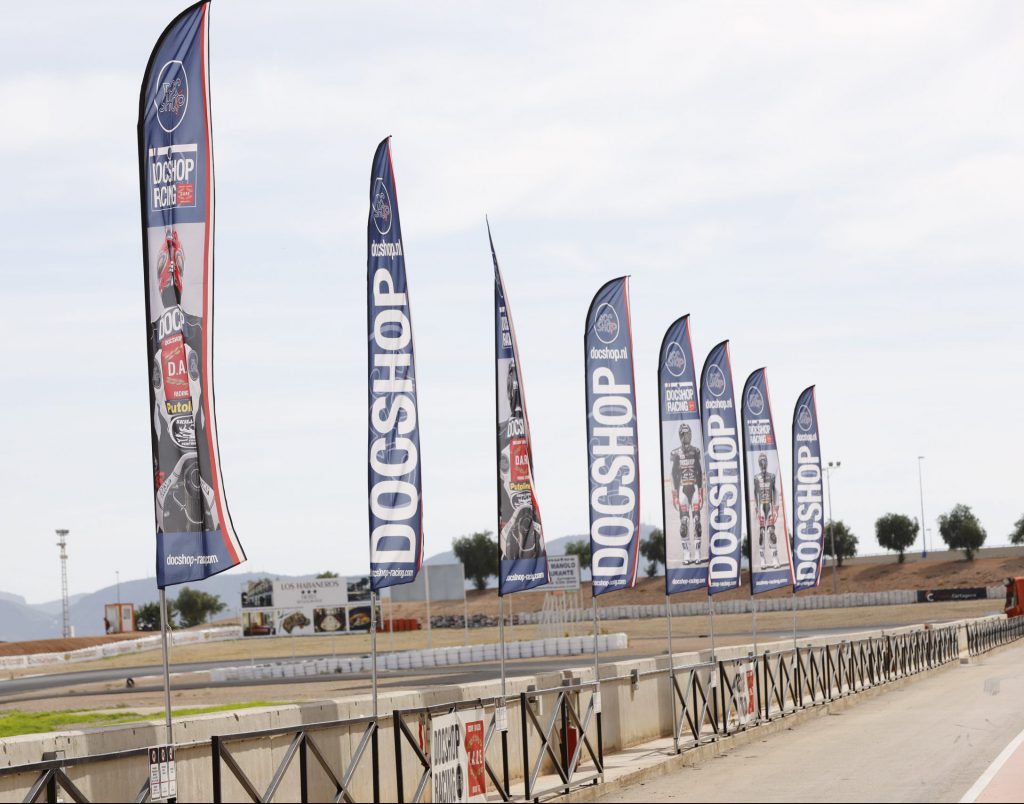 D.A.R.E. was born purely to give the average motorcycle enthousiast the possibility to ride with their own machine on a closed circuit and being dependent of each individual on how far they wish to take the experience. Some riders are just happy to be there in the midst of things, whilst others go on to sell there street registered machine and take it a step further by preparing a track based machine and enter it into a race. D.A.R.E. caters for every motorcycle rider who has their own machine (which ever type it is) and will instruct each participant on how to ride more safer and faster on a circuit which will also be of benefit when you return to the street by having more confidence on your day to day motorcycle riding. We have had riders from the ages of 12 until 72, male, female, gay and lesbian, so it really is something for every one!
CARTAGENA
For more than 20 years Docshop Advanced Riding Events are organised at the circuit of Cartagena in southern Spain, a technical track with plenty of corners to keep both the beginner and the advanced motorcycle rider active. With a full group of professional personnel present to guarantee your enjoyment, these events are a must for the motorcycle enthousiast. The weather in March/April is around 20 degrees and in October it can be up to 25 degrees. The area around Cartagena is known for the dry and good weather, throughout the year there are only 10 days of rain. During all past events we only had a maximum of 2 hours of rain per event (at only 2-3 events), so you can leave your rain tyres at home!
INSTRUCTION-TRAINING
Instruction for riding sporty but also safely for everyone till your knee touches the ground…. This training is specialised in the knowledge of riding on a track. Riding is within groups of 3 to 5 riders per group following an instructor. This gives all the participants the possibility to ride in groups within their own pace. After each session you will regroup within your pitbox and analyze the last session's progress with the instructor. For the beginner we have experienced that a maximum of 5 riders per group will be of the best benefit. It is always possible to switch groups if the level is too fast or too slow for one or more participants. Our instructors monitor their groups all the time and will discuss changes with participant and other instructors. If no suitable group is to be found for a particular participant and an extra instructor is available, we will provide 1 on 1 instruction until the participant is onto the level of one of the groups. Pit boxes are included..
SPORTSRIDER-TRAINING
This training is meant for the sports rider, which means that you should have experienced a number of different tracks. You are free to ride every 30 minutes without the use of an instructor. Pit boxes are included. This group is also riding with the Racers (fun & professional) so it will open your eyes as to what you can do if you wish to become more competitive. There is always something you can learn! If you want, you can enhance your circuit riding skills with the help of one of ours instructors during some sessions. This will be at additional charge.
RACER/BUDGET-TRAINING
This Training is suited for the out and out racer who is self reliant with there own equipment. You only get tracktime and have to bring your own lunch, fuel, tyres, etc. There is always the possibility to book extra facilities if you wish to do so.
Excluding the racer/budget-training participants, during the event you will get a free drink bottle with sportdrink concentrate, free cooled water to fill it up and coffee all day long. At every D.A.R.E.-event each participant receives a free DARE-T-shirt, DARE-cap and a DARE-certificate. Also included is your pitbox space and every technical help we can provide.
We have our own group of instructors, which will alternate to the level of the group participating. They have all competed in nearly every type of International motorcycle road racing competitions within the past years from Dutch and German championships to World endurance championships and are also selected on their verbal capabilities.
Doctor and medical personnel
There is always an experienced race doctor at the track, either from our own personnel or at the circuit from the local Spanish Hospital. There will also be 1 or 2 ambulances with local medical personnel.
The technical back up during the events comes from the long serving Docshop team representative Greg Barnes, with over 20 years of experience in the motorcycle racing world. Along with some very helpful assistants they will try to make your days as fun as they can be and to keep you rolling on the track as much as is possible. Our complete crew takes care of all the riders in the instruction- and sportriders-training with technical support, refuelling, tire changes, repairs, etc.. As long as you bring your suit, helmet and gloves, they will get your bike ready and you only have to concentrate on your riding and your lines. You may ask yourself if there are any restrictions as to which type of motorcycle can be used? There are none, as long as the motorcycle is within the safety regulations of circuit trainings. During the event there are no restrictions to noise levels or the type of tires used.
Each morning before the raw of the engines begin, we get together for some light warming up and stretching exercises with the D.A.R.E. team and all participants.
Hotel accommodation and dinner / lunch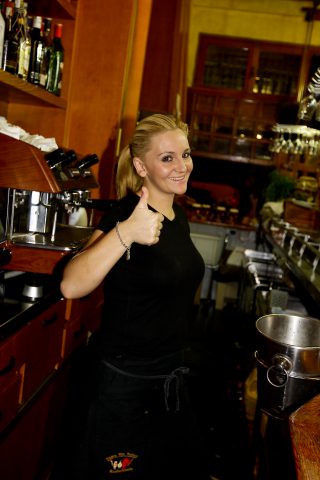 If you booked an hotel accommodation with your D.A.R.E. event ,we will see to it that all participants are in the same 3 star hotel, which is around 20 minutes from the circuit by car and 5 minutes walking from the evening restaurant. This typically Spanish restaurant has been our base for dinner for many years and is ideal for all participants to exchange stories from the day and to basically have a laugh. Sometimes we are treated with some special guest appearences during one of the evenings, also something not to be missed! We can also arrange your daily lunch at the circuit restaurant which consists of salad and a main dish, finished with coffe or thea. Bread and water are also included. Special food-wishes can be taken into account.
During the event we offer the possibility to buy a digital set of action pictures (on the basis of enough participants). You can choose for us to transport you motorcycle along with 2 items of baggage straight from The Netherlands to your Cartagena pit. It is even possible to hire a motorcycle to use on the track, ask us for our terms and give us your wishes so we can make you a fitting offer. Flights and car hire or any other things that you might need are also possible to aquire from our D.A.R.E. event team. Petrol is supplied at the circuit for all participants who booked this in advance. Prices may vary from event to event due to local petrol prices (50 liters is the average used for the 3 days).
Feel like a MotoGP rider..
IF YOU D.A.R.E. !